Are you selling a car to wreckers?
If you're searching for "sell my car to wreckers" on your favourite search engine, it's probably because you realise that your car is no longer in a drivable condition.
Whether it's through an accident, a mechanical failure, or just the wear and tear of time, deregistered, no warrant.
Is your vehicle too expensive to fix? The best option is to sell your car to wreckers.
If you want to sell a car to wreckers, you want to get the most possible cash for your wrecked vehicle.
Regardless if you are selling a vehicle that has been damaged in a wreck or simply one that has worn out, there are a few things you can do in order to maximise the amount you receive.
If your vehicle is a popular model, you may be able to sell your car to a wrecker for parts.
In addition to the cash you receive, you will get free car removal service. Here's a how-to guide on getting the most cash from wreckers for your old, scrap or wreck.
What You Will Need
Current ownership or authority to sell
Search on Google, Bing etc
Valid photo ID such as driver licence, passport, 18+ card, etc
Good research skills
Some negotiating skills
Step 1: Search Local Wreckers on Search Engine
Search for "car wreckers near me" on the search engine. List all of the local wreckers that are in your neighbourhood or located close enough so that you can get rid of the vehicle easy and hassle-free.
Contact all wrecker and tell them that you have a vehicle you are interested in selling to wreckers.
Give them all the details of the vehicle, such as the make and model, and the type of damage that the vehicle has.
The person at the wrecking yard may ask you quite a few questions about the vehicle. You should try to answer all the questions as truthfully and accurately as possible in order to get the most accurate offer for your vehicle.
Step 2: Receive Cash Offers
If your vehicle is something that the wreckers are interested in, they will apparently make you a no-obligation cash offer over the phone.
Step 3: Compare Offers and Costs
After you contact all of the wreckers, compare the offers you received from different.
Step 4: Prepare the Vehicle
Remove all personal belongings or added accessories you wish to keep before wreckers take your car.
Step 5: Sell the Vehicle
Allow the tow truck driver to inspect your vehicle. If the vehicle is true as you described, the wrecker should give you the amount they offered you on the phone.
Sign over the paper and receive the payment in cash or check.
Step 6: Remove Your Vehicle
Most of the wreckers will offer your free car removal service or tow your vehicle to the wreckers you want to do business with.
Step 7: Check on Ownership Transfer
Contact NZTA and ensure that the ownership has been transferred or de-register the car. Don't allow the wreckers to delay the transfer of the title too long, as you may be liable for any event or mishap that might be associated with the vehicle.
Selling a Wrecked Car to Atlas Auto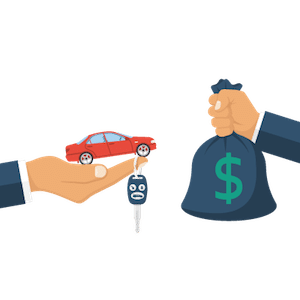 Atlas Auto will buy your car from you regardless of their condition for cash. It doesn't matter how rough the body is, if it is currently registered or deregistered, scrap car, damaged car, or if it's running or not. Atlas Auto pays cash for cars in any condition.
Request a cash offer from Atlas Auto. Fill in your vehicle information in as much detail as possible. You'll receive a free no-obligation cash offer from Atlas Auto for your scrap vehicle – all you need is the valid photo ID. If you accept the offer, we'll put money in your hand typically within 24 to 48 hours. Then, we'll pick your car up from your home, office, the repair shop, or wherever it sits, and at no charge to you.
Get your offer now to see how much your car or truck is worth or Freephone: 0800 99 7000
Areas Served – North Island, New Zealand
Atlas Auto pick up cars, 4x4s, vans or trucks throughout North Island, New Zealand! We service all major cities & areas in North Island such as Hamilton, Auckland, Tauranga, Rotorua, Tokoroa, Taupo, Thames, Coromandel, Waihi, Huntly, Morrinsville, Matamata, etc
To find out more about the service area. Call us on 0800 99 7000
Helpful Information