I Want to Sell My Car Fast! Where Can I Sell at Best Price?
Are you considering, "I want to sell my car fast" but you don't know the right channels to sell it quickly and get the best price?
Selling a car can be quite a daunting task at times, especially when it's your first time or the car is in imperfect condition.
I want to sell my car fast!
Selling your car fast doesn't have to be hard, even if you're trying to sell a scrap car.
With the right information on the various methods and options you can use to sell your car, you will know how to sell your vehicle or sell your truck in the most convenient way that's best for you.
Sell my car for cash privately
Selling a car privately is the first option that comes to the mind of many individuals when it's time to let go of your car. It can be a great option. Private sales will get you the highest selling price since you're selling your car directly to the buyer who will drive it. There's no broker. However, it can be time-consuming and risky, considering that you are dealing with strangers. When selling privately, here is a summary of what you should know…
Tell your friends, family, and even colleagues that you are looking to sell your car. Maybe one of them will be interested or may know someone who might be.
Start by advertising your car to potential buyers out there. There are many channels of advertising your car, including putting a "For Sale" sign up, placing classified ads in local newspapers or posting online ads on the number car listing and classified sites such as Trademe, Auto Trader, Kwikz, etc.
Make sure you give the best and most accurate description of your car in advertisements. Take time to get good pictures. The more details that your listing and photos convey, the more people the listing will weed out. This saves you from wasted time and effort.
Deal quickly with any emails or calls from potential buyers.
Arrange to meet the buyer in a public place for viewing and always take caution when handing over the car keys for test-drives.
Here's a great post on How to sell your car and dealing with paperwork in New Zealand?
Sell Your Vehicle Fast. Easy. Free
Benefits of Selling a Car Privately
Disadvantages of Selling a Car Privately
Selling a Car to Dealer
When selling a car to a dealer, you can either do it outright or via a trade-in.
Trade-In: This is the easiest way to sell your car if you are planning to buy a new or another used car from a dealership. It's a great option when you are upgrading from your current model. Although you will apparently get less than through a private sale, the plus side of this option is that it helps you avoid the work and expenses of advertising, dealing with queries, viewings and test drives.
Selling Outright: Selling outright to a used car dealer is a pretty straightforward and relatively fast process. The price you get is based on the vehicle's current condition and market value, so it isn't the best value you are likely to get out there with other options. Good thing is, you can even sell your car on the exact same day.
Pros of Selling to a Dealer
Cons of Selling to a Dealer
Looking to sell Your Car?
Selling A Car Online via an Auction
Auctioning your car is a fast and relatively easy way of selling your car. However, there's no guarantee that your car will reach its reserve price and therefore you may end up getting a lower price for it than with other options. You'll also have to find the best auto auction websites out there.
Online auctions are relatively a hassle-free way of selling a used car. All you need is to advertise your car on a site like Trademe, Turners Auction with the full description and photos of the car. The sites will charge a certain posting fee as well as some fees based on the final selling price. But, they will often offer secure ways of accepting payment, which is a big plus.
Pros of auctioning your car
Cons of auctioning your car
Selling My Car for Cash to Atlas Auto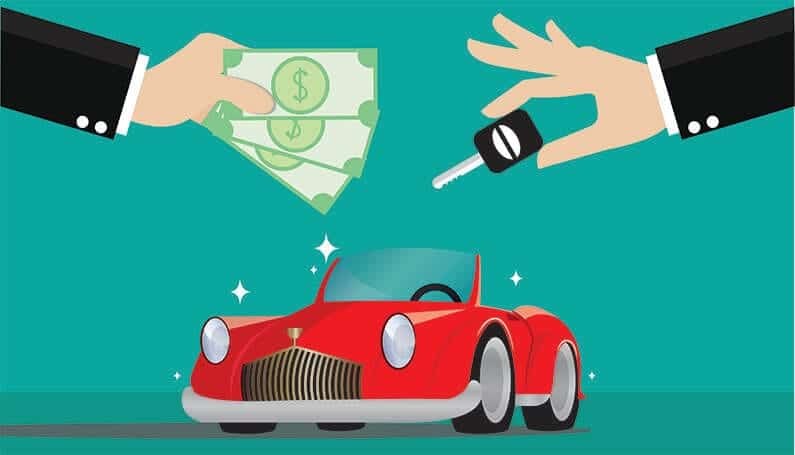 This is the best option to sell your car fast and instant cash. Atlas Auto will buy your car from you regardless of their condition for cash. It doesn't matter how rough the body is, if it is currently registered or deregistered, scrap car, damaged car, or if it's running or not. 
Atlas Auto pays cash for cars in any condition. You're already on Atlas Auto, so click here to Get an Offer or Freephone: 0800997000 – To get your free no-obligation offer.
You'll receive a free no-obligation cash offer from Atlas Auto for your unwanted vehicle – all you need is the valid photo ID. If you accept the offer, we'll put money in your hand typically within 24 to 48 hours. Then, we'll pick your car up from your home, office, the repair shop, or wherever it sits, and at no charge to you.
Get your offer now to see how much your car or truck is worth or Freephone: 0800 99 7000
Areas Served – North Island, New Zealand
Atlas Auto pick up cars, 4x4s, vans or trucks throughout North Island, New Zealand! We service all major cities & areas in North Island such as Hamilton, Auckland, Tauranga, Rotorua, Tokoroa, Taupo, Thames, Coromandel, Waihi, Huntly, Morrinsville, Matamata, etc
To find out more about the service area. Call us on 0800 99 7000
Helpful Information

Looking to Sell Your Car? Get Cash for Cars Now!
Atlas Auto is Paying Cash for Cars. Instant Top Cash Paid – Free Pickup – Up-to $12000.